Cracked screen repairs for cell phones and tablets
If your smart phone, tablet, or e-reader has seen better days, bring it in to our store to have it repaired. Our technicians can replace your mobile device's glass screen, so you can enjoy your device without dealing with annoying and distracting surface cracks. Stop by or call to learn more!
Quality workmanship
If you're spending time and money to have a device repaired, it makes sense to choose a team who can get the job done right. Tech ER is focused on giving you the highest quality of repairs.
We're proud to say that a lot of our business comes from word-of-mouth, from satisfied former customers. Let us know what we can do for you!
Banish your cracked screen
Your phone or tablet should make your life easier and be a source of enjoyment, not frustration. If your device's cracked screen is getting you down, bring it in to our Tullahoma store.
Our team can have your screen replaced in no time. In most cases, repairs can be completed on a same-day basis. Stop by today with your device.
Repairs for iPhone and Android devices
In addition to cracked screen repairs, you can also turn to us for charging cord replacements and headphone jack replacements, for both iPhone and Android devices.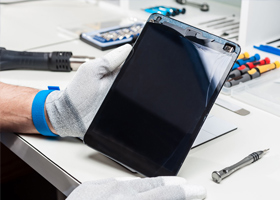 All of our repairs come with a 60-day warranty, and we charge for our services on a flat fee basis, based on the complexity of the work needed. Let us know if you'd like to learn more.
Call us to get a free quote now